·
2010 Nissan Of The Year!
Sooooo I have been getting a lot of requests for the 5th Gen decals so here we go! Some of you know me from when I was rocking a 07 4th Gen Alitma until she was totaled. I offer every other Gen so it's about time I offer it to you guys. I'm not on here 24/7 like I use to but I am on this forum quite a bit just not daily. I am stickied on top of the FS section and I have asked permission from Admins to sell the nissanclub decals back in the day. I have pages of reference in the FS section with all happy customers and even in each Gen when I start the initial offering. I had a thread here when the 5th Gen was just launched but there was no real interest due to not many owners at the time and even less people on this forum in this section. Now that the 5th Gen has been around for a year I think it's time!!
For people that don't know how or what the material is. I use a vinyl decal that comes with transfer tape already attached so you just peel and stick to your desired area (most use the small back side windows on the rear doors). Does not matter if you have tint since tint is applied to the inside of your windows and these decals go on the outside.
I charge $15 for the lower 48 states and $15.50 for Canada, Hawaii and Alaska. If you click the link in my signature you can see all the other generations I have done in the past. People in that thread are just small percent who own them since mostly people just PM or I meet them at Local meets.
The Official Design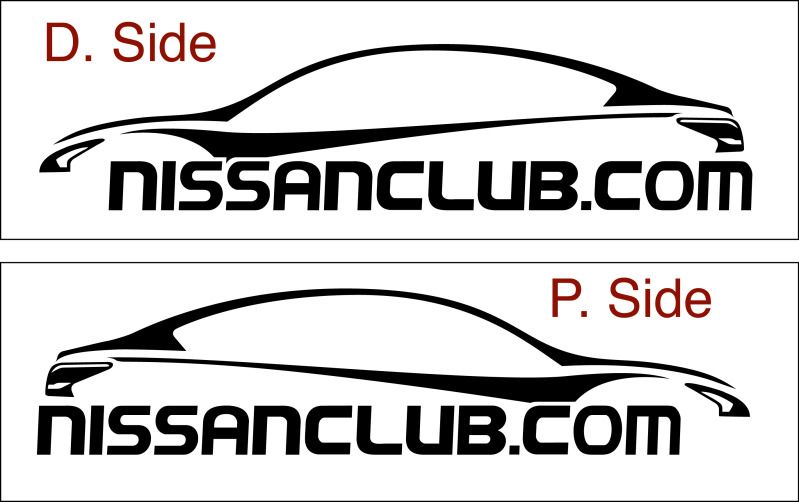 The Black is just to show what it looks like and since it is on a white back ground. They will not be made in Black. The black is just what I use to create the graphic in Illustrator for the vector file to be sent to the printer. I will have them made in White, Silver and Red. Let me know what you guys think. I used the body lines and key elements in the tails and heads to make it unique.
If you are interested in getting a set please say add me and I will add you to the list. I will then contact you by PM to arrange payment. I do this because I still get other orders but I don't want confusion in my paypal and everyones personal information on the forums. On the previous launches I get quite a few orders so I just want to be organized so in a few weeks when it's time to ship I won't send them to the wrong people. I will have special instructions in my PMs on what to put in the paypal notes. If you don't have paypal not to worry we can discuss other forms of payment. This will take a few weeks to get going since I have a 9-5 job family with a 1yr old and everything else in a day to day living. I am a perfectionist so I will not allow garbage to leave my hands. I do all the weeding and backing myself after I purchase them all on a huge sheets of vinyl from my old job (worked at a printer as there main designer and vinyl installer). Once I have all the material and its all ready to be shipped I will let everyone know. ALSO when you receive them make sure to clean your window or desired area with rubbing alcohol to remove all grease wax etc so the vinyl will still. Warmer days are always best. If you have rain-x on your window I know you will have to wait a few weeks before it will stick. I do believe the alcohol will remove it in that desired area but I am uncertain. I will test this out for anyone who needs to know.
ANDDDDDD most importantly you guys better take pics and show them off in this thread and in my FS thread!
Color Choice as of now:
White, Silver, and Red.
1. 09alti - white
2. Boombazokajoe - white
3. DunitSoldier14 - Gray or white
Paid & Shipped
4. jbinner - red
Paid & Shipped
5. krich050 - white
6. AltimateD13 - white
Paid & Shipped
7.
8.
9.
10.