Well, part 1 of my trunk brace project is now done.
This afternoon I picked up the necessary hardware for this first part of my trunk bracing project. Install was cake and if you can install a FSTB you can install this bar with no problem at all. For those that have no clue what I am talking about, last weekend I started reading up on chassis bracing, specifically the trunk and rear suspension. For more information on this,
http://www.nissanclub.com/forums/ge...ounge-general-discussion-152.html#post4162183
.
As per usual, I am not responsible for any damage caused to your car or person while attempting this modification. This serves only as a guide to complete this project.
Parts needed:
-2 8-1.25 50mm bolts, (I used 40 mm and had to bend part of the pass through to get the bar on).
-2 8-1.25 hex nuts
-2 5/16"-1 1/4" rubber fender washers
-4 8mm washers
-eBay FSTB
-Razor blade
-Flathead screwdriver
-12mm socket wrench
-Needle nose pliers, (If 40mm bolts are used)
For this project I utilized existing bolt locations to make this as basic and user friendly as possible. For those with a sub-woofer enclosure this may effect how your box rests next to the rear seat pass through. When this project is complete you will be unable to use a typical MDF enclosure if you follow everything as I have done and will do.
Ever since I bought my 2nd gen and realized that a 1st gen FSTB does not bolt up I've been looking for a way to re-purpose this bar. I have finally found a way to. This project uses only the actual bar and attached eye bolts. You may use the supplied brackets but you may have to cut them and you will be required to drill into the sheet metal surrounding the rear pass through.
The first thing you are going to want to do once you have all the necessary hardware and parts is to fold your rear seats down and remove the plastic trim as well as the grommet that secures the rear seat carpet to the trim. Do so with a Flathead screwdriver being careful not to break them.
Once the left, right, and center portions are removed set them aside. You will now remove the bolt that secures the rear seat latches to the sheet metal. These are 12mm bolts and should break free with minimal effort. Replace each of these bolts with your new longer ones. These will be used to mount the bar to the car.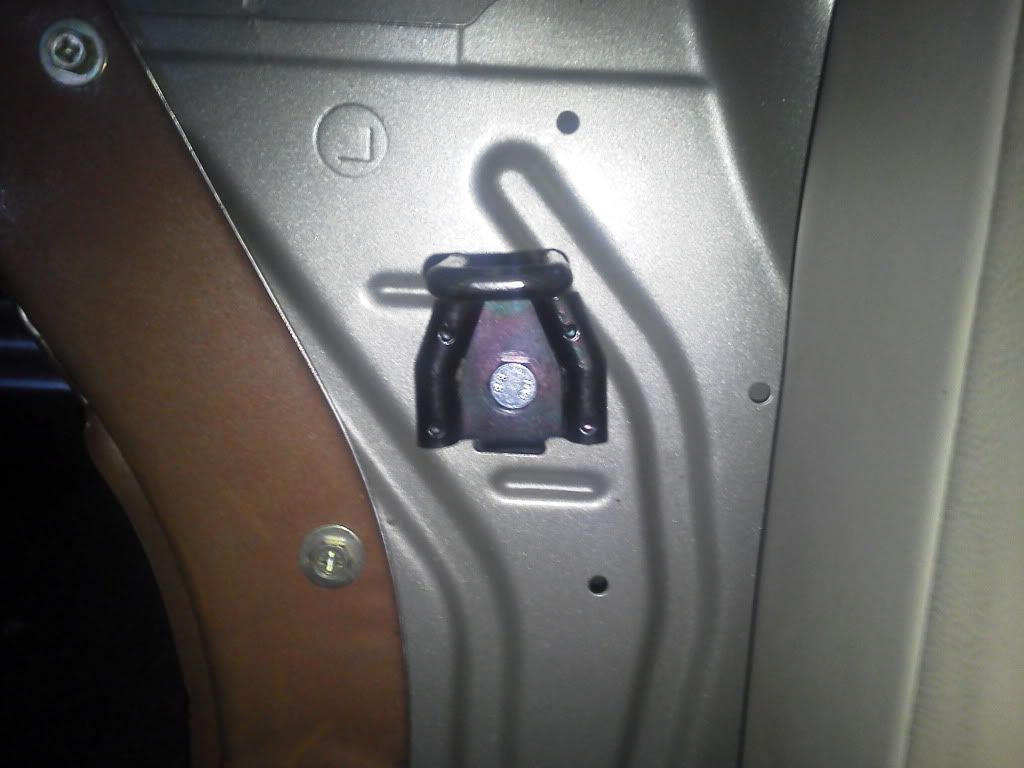 If you used the 50mm bolts you can now re-install the plastic trim. If not, leave it off, you'll need to cut a small section out of each later on.
Next, open your trunk lid and climb inside facing the rear deck. Be sure to keep your hardware, socket, and razor blade close by since space can be rather tight during this process.
Feel around on the trunk carpet for the new bolt you just installed. Once you have found it apply pressure to it through the carpet and cut a small slit to allow it to pass through. Now take one of your fender washers followed by one of your stainless steel washers and push them all the way to the end of the bolt pushing the carpet back securely as you go. Do this to both sides being careful not to cut yourself. It may take multiple scores with the razor to cut through.
Once you have both bolts showing through it's time to mount the bar. This is where your install will differ from mine. Since my bolts were only 40mm long the bar could not mount straight due to the sheet metal surrounding the pass through. If you used the 40mm keep reading, if you used the 50mm skip to the next paragraph. To solve this issue I took a pair of needle nose pliers and bent the offending sheet metal back towards the strut towers on the interior side of the car.
To mount the bar I extended the threads on each end a little at a time making sure not to extend one side to much at a time. Once you have the correct length make sure to lock it in using the nuts on each end of the bar. Then simply hold the bar up, and using another washer and nut mount the bar to each side with your 12mm socket being careful not to tighten down one side to much at a time.
Once again, if you used the 50mm bolts you are now done, pack up your tools. If you used the 40mm bolts you will need to cut the left and right sides of the plastic trim to allow them to sit flush where the bar runs across the trunk.
Looking in from the trunk: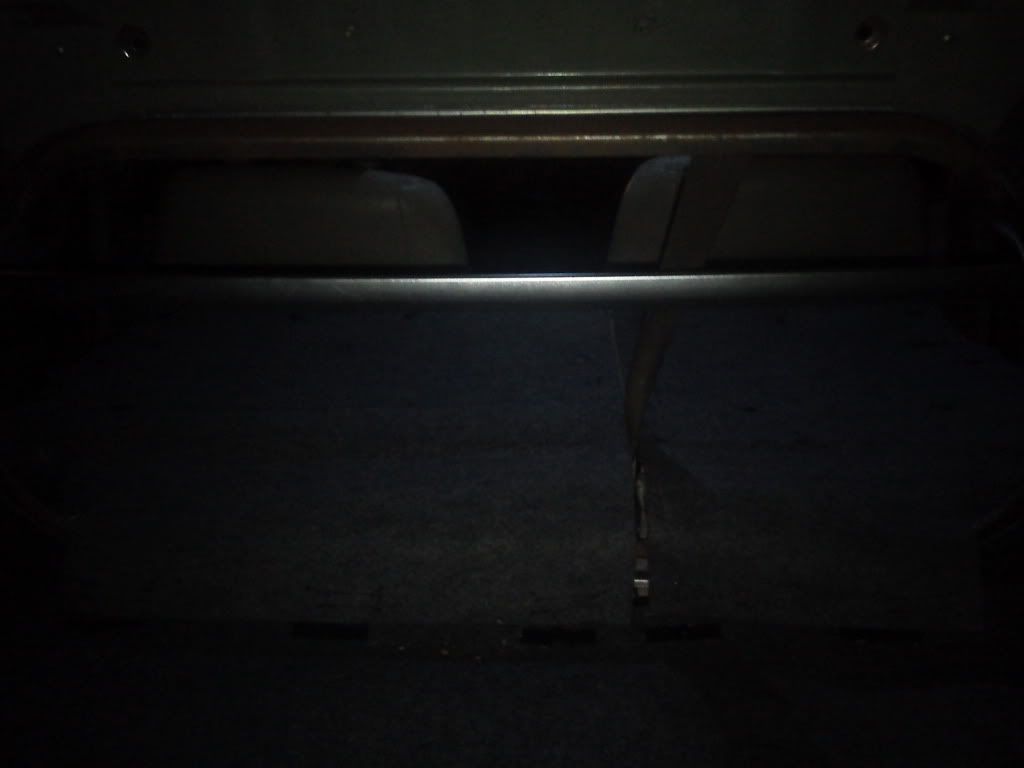 Looking back from the front seats: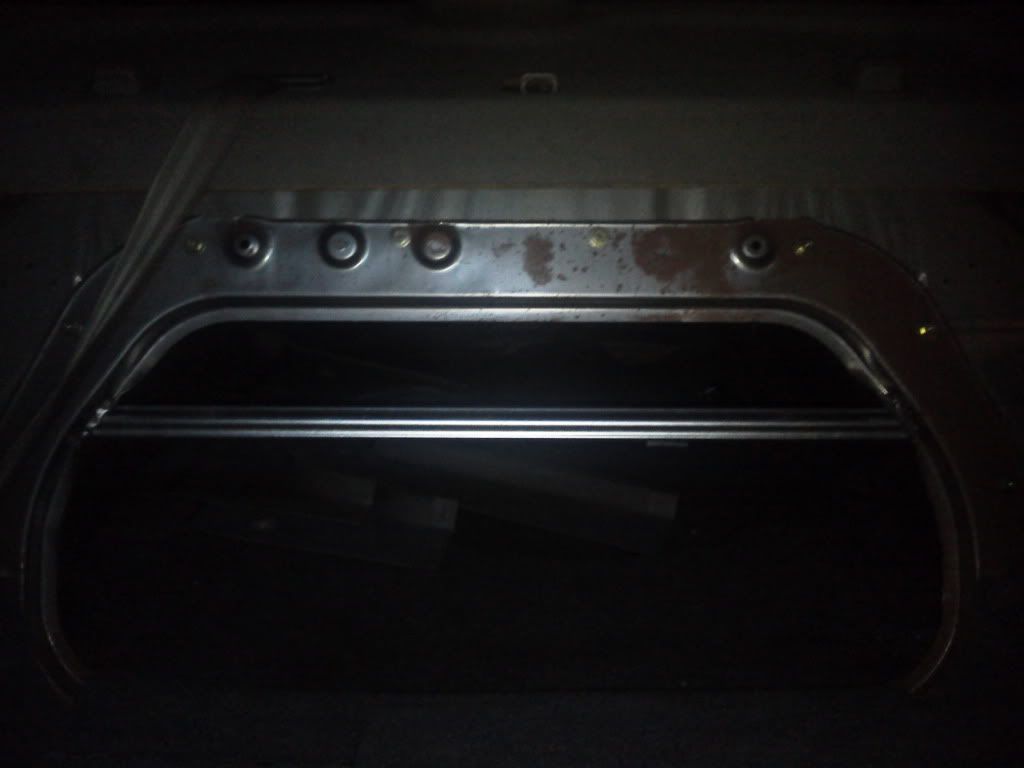 If you look closely you can see where I had to bend the sheet metal to allow the bar to sit flat.
Congratulations, you've now hopefully successfully completed the first part of the trunk brace.
Better pictures will be uploaded tomorrow in the day light.