Discussion Starter
·
#1
·
When I was originally working on my RX330 quad setup I had planned on re-doing my ES fog retro. When I finished my original ES retro I was happy with it. It satisfied the look I was going for. But I soon grew past the color matched shroud and orange lens. After purchasing a new pair of ES projectors I decided to use the Matchboxes that I already had which meant the "new" ES projectors got shelved. Well, now I decided to put them to use so I re-opened my old setup and revamped it.
When a member on HIDP posted up his DRL/fog setup I loved the look of it. So I decided to incorporate that into my new setup. I used the xDRL's that I bought months and months ago that I was originally going to use as supplemental reverse lights. To allow the ES300 and the xDRL's to fit in my tiny housings I had to back mount the projector and also add a slot at the top of the hole to allow the xDRL wiring to pass through. Somewhere along the way I lost the hardware to the xDRL's so I scrounged up 4 matching machine screws and nuts and mounted the xDRL's to the top of the housings and lined them up with the horizontal edge of the reflector bowl. Both housings were also painted with the same high beat black paint that I used in my current quad setup.
Also, when I originally opened these housings I found that they were permasealed, (much to my dismay). When I resealed them I used a combination of silicone and aluminum tape. Well unfortunately one of the housings had a leak, which I lived with until I swapped in the Matchbox retro. This time around I scraped out as much of the permasealant as I could and will be butyl sealing these as well as taping since parts of the channel were broken off in the opening process.
Right now everything is mounted. I just need to cover the JB Steel Stik epoxy with actual JB weld which will fill in any little spots I may have missed, notch the fog bracket to give the ES clearance, and I am waiting on the wiring and butyl from TRS which I ordered first thing this morning.
Onto the pictures.
Both housings.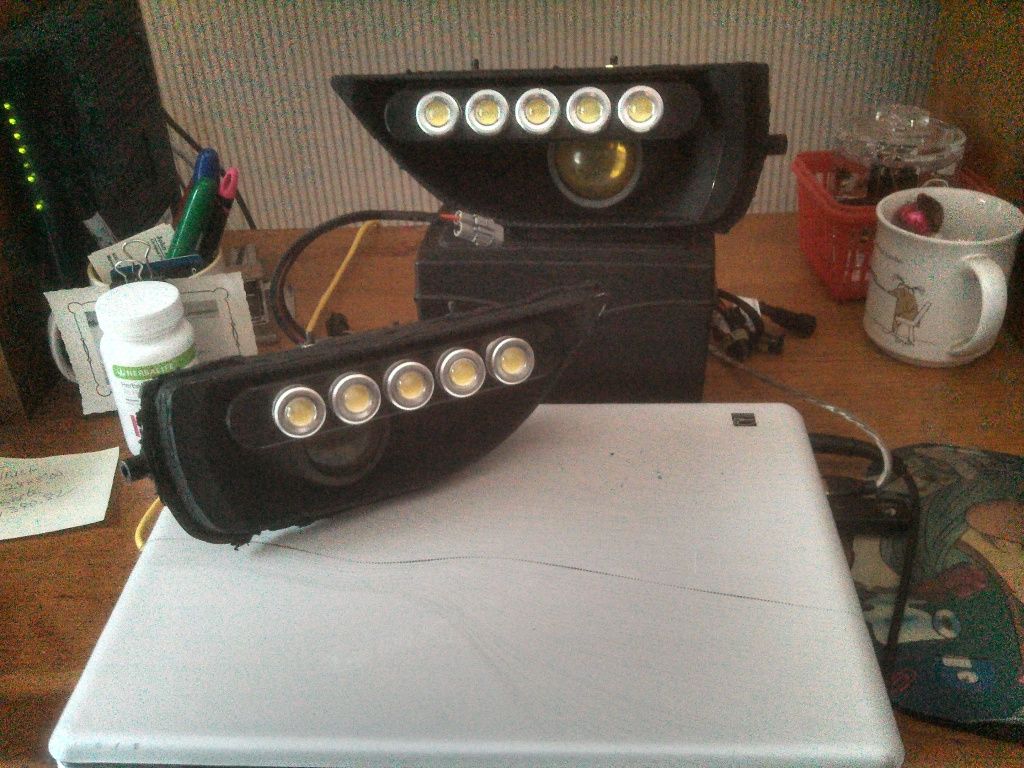 Closeup of Driver housing.