Ok, so I see that a lot of people that comes on this site, are looking for black "JDM" headlight's….well I for one was not paying $200 for something I could do on my own for $15
Install difficulty:: 2 out of 5
Estimated time needed to complete:: around 2 hours or so or 3 beer's lol
Tool's Needed:
10mm socket
6" extension (I used two 3" and it worked better)
3/8 drive ratchet
Phillip's head screwdriver #2 bit
Can of black paint
2 flat head screw drivers
sharp knife
an oven
a tube of caulk or silicone
a radio (optional)
6 pack of whatever you like (NOT optional)
total cost:: around $10 provided you have all the tool's
first things first, you'll have to remove your headlights, there are 4 screws on 2000-2001 Altima's there is one on top of the headlight, two on the backside of the headlight and one in your fender well, the one on your fender well is going to be the hardest to get out, you have to remove your fender well lining there is one screw in them middle that you have to remove its just a clip holding it on with a screw thru it, you can actually feel the screw thru the fender on the inside of the engine bay, its inside of the white plastic outlined thing…
Step two:: once you have your headlight's removed, there are 4 screw's holding your headlight together, 2 on the side where the amber marker's are, 1 behind your turning lamp (not the turn signal) and one at the top in the middle
Step three:: preheat your over to 200-350 degree's (WARNING: if you preheat it to 350 the headlight WILL be hot) leave your headlight in for around 3 – 4 minute's take a flat head screwdriver and pry apart the black plastic on the top of your headlight, start in the corner and work your way around, once the headlight gets cool to the touch, pop it back in the over for another 3-4 minute's… there are two way's you can separate the too, easy and muscle way, you can take two screwdriver's and pry apart the headlight, sticking on in then the other and moving your way down, or get a corner of it loose and just pull like hell, while having someone else cut the tar…
If you didn't remove one or more of your screw's you'll know its not THAT hard to pry apart but it is a pita.
Step four::to remove the chrome from the headlight lens, there is a screw at the top where the headlight is, remove it using your #2 phillips, be sure and wash the chrome piece's with dish detergant and dry them completly i was lazy and used a box fan to dry them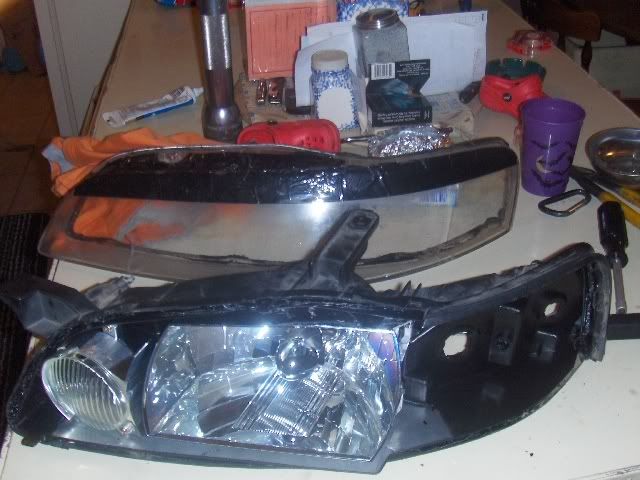 Step five:: if you would like to take your amber marker's out now is your chance, I left mine in and used some transparent black (local hobby store) or VHT NiteShade (ebay) and painted them black as well.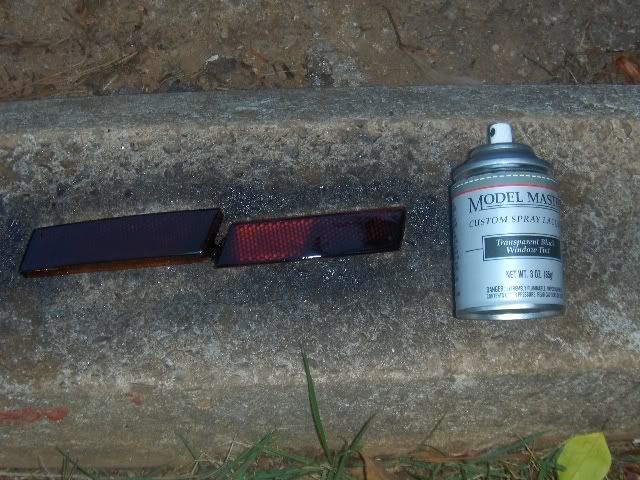 Step six:: mask your turning lamp innards with masking tape or painter's tape which ever you have lying around.
Step seven:: paint away, be sure and do light coat's other wise it will have the tendency to run. Let sit for 10-15 minutes depending upon paint mfg before applying your next coat
Step eight:: insert the chrome piece back in, put your screw back in that hold's the lens to the chrome, be very careful as to not scratch the paint.. go ahead now and preheat your oven 200-350 degree's
Step nine:: once your oven is preheated put the headlight housing back in long enough to let the tar crap, soften around 3-5 minute's and put the two back together, screw your screw's back in and let cool..
Step ten:: take some silicone and put a nice bead around the entire headlight to make sure that it is leak proof..
Step eleven:: reinstall everything in the reverse order of uninstalling
Step twelve:: brag, and drink your beer's