Discussion Starter
•
#1
•
So when i first joined up here, i still owned my 05 altima se-r.
Well the motor had to be rebuilt, excessive oil consumption, and it never felt the same. Eventually wife got pregnent, and i got hurt on the job. ive had 2 back surgeries since then. I had to sell her. Then after selling her i found out some really disturbing news.
Apparently the nissan dealer that rebuilt the engine, put a kid on rebuilding it that was inexpereinced, and left the cam bolts loose as well as other stuff on purpose. They were joking about it i guess. They were lucky i didnt own the car anymore or id sue the shit out of them. Was completly bull shit what they did to the car
.
Well since then ive owned a b13 turbo that gave me hell, and a hardbody. Well after selling the turbo b13 i found something i had to buy. My old 200sx that i had sold to get my altima se-r.
When i first got her before the altima.
After i did shit to her. yah ricey on some things but i was a idiot back then on that car. It looked clean, i just had some ricey things done, like those lights. This is what she looked like when i sold her.
Now when i found her again, she was for sale at a dealer. Apparently the guy i sold her to, it got stolen, and stripped (or thats what he says) so he got it put back together, then it got hit in the quarter and fixed, Well all the electrical got ****ed and yanked out when it was stolen, he then blew up 3rd gear, and traded it in. I saw it sitting at a dealer on craigslist and bought it back for a very cheap price. I had sold it in 08 for 5,500, and bought it back for 1,100 lol.
When i got her from the dealership, so sad
smelled like mildew inside.
And this is now.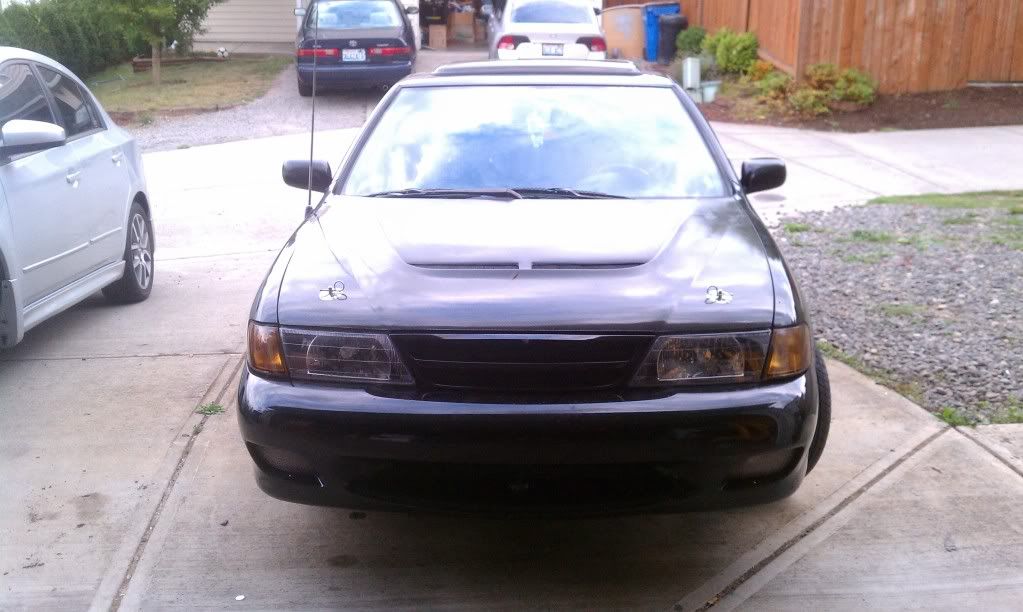 Carbon fiber hood is getting yanked or painted to match the car, i love the extra cooling it provides for the engine bay, but i hate the cf look.
Things ive done. Yanked out the de, dropped a sr20ve and n1 cams, with nistune ecu, new axles, completly redid all the wiring, fogs were ****ed, re wired them, everything in the car got redone. Rare nismo lucino frong grille, only like 3 in the usa, Lucino power folding mirrors, Rare chrome sel rims. She moves really good but i still miss the altima so very much
it sucks, but its nice having my first car back and done the way i wanted it to be done the first time around. Just figured id come back and say hey
im not dead.