Discussion Starter
•
#1
•
I just did this the other day and I took some pictures while I was at it. Hopefully this will help some people if they're planning on doing the same thing.
This was done on an 05 SE-R with the Bose 6-CD changer. I can't guarantee that the wire colors are going to be the same for your car, so check a wiring diagram to be sure.
If you want to add an amp to your stock Bose system without changing the H/U or paying for a special harness follow these steps:
1. Disconnect the black/blue harness connector from the Bose amp (underneath the rear panel in the trunk).
2. Find the appropriate cables to splice (my audio signal cables were wrapped in the red and grey heatshrink):
GREEN/WHITE
: Amp ON/OFF signal
BLUE
: Rear Right +
BLACK/WHITE
: Rear Right -
BROWN
: Rear Left +
BLACK/RED
: Rear Left -
(It helps to label the cables with tape)
3. Cut one end off of a spare patch cable:
4. Strip the patch cables. The shielded cable on the inside is +, the outer shielding is -. Connect these (splice, crimp, solder) to some spare wire and label accordingly (R-, R+, L-, L+):
5. Using quick splice terminals, connect the appropriate wires from the patch cable to the wires on the Bose amp harness, and your amp turn-on cable: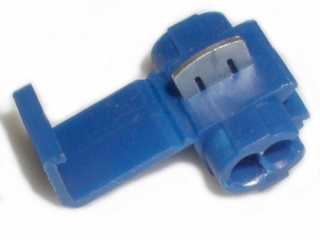 6. Plug the RCA patch cable in to your amp input, and attach the cable from the Bose amp turn-on wire to your amp. That's it!
The inputs to the Bose amp are all ready low level, so splicing your patch cable in to these ensures you get the pure signal from the H/U.
The quick splice terminals can be bought at any auto parts store for pretty cheap. You don't have to use them, but it makes things a LOT easier.
Thanks again to Nismos14 for helping me figure this out.