Intake Manifold Removal
This how I removed the intake manifold on my 93 Altima
Tools need:
-12mm sockets, 10mm sockets, 14mm sockets, 8mm sockets, deep and shallow. Both in 3/8 drive and 1/4 drive.
- Vise grips, the ones that lock like needle nose
-Ratchets, 3/8 and 1/4 drives( flex-head ratchet helps )
-universal sockets set /or universal joint
-toque wrench
-1/4 socket and 5/16 socket/8mm for new clamps
-PB Blaster.
-1/4 and 3/8 extensions
-screwdrivers and picks
-magnetic
-Floor Jack and jackstands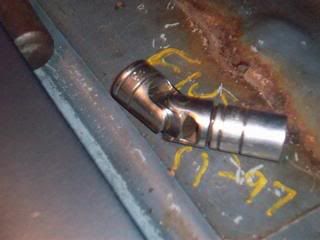 Parts
-Intake Manifold set
Begin by running the car, remove the fuel pump relay(green) to release the fuel pressure.
Begin by disconecting the negative battery cable with 10mm socket/wrench
Remove the fuel injector rail.
First remove 2 bolts (10mm) from the bracket and both hoses, and label the FUEL PRESSURE REG vac hose
http://i170.photobucket.com/albums/u245/RCM_2007/ALTIMA 4/100_1000.jpg
This how it will look after removing the fuel rail.
http://i170.photobucket.com/albums/u245/RCM_2007/ALTIMA 4/100_0955.jpg

Block the rear wheels with block/chock.Thenjack up the car and set up on jack stands.
Then Remove all cover/panel with 10mm socket and then drain anti-freeze by removing the plastic bolt with phillips srewdriver.
Then remove the passenger wheel by removing the four 21mm nuts with a
impact wrench/lug wrench. Next remove the black plastic panel cover (use 10mm socket).