Hey guys, so I've been meaning to make a build thread for years now but never actually put forth the effort in doing so because I felt it'd be pointless.
Well I figured I'll start one anyways seeing as when I first got mine I searched all over for other 2nd gen Altimas for ideas and inspiration and didn't get enough. So, with my build thread, I hope to not only motivate those who were just like me and wanted some ideas, but to also give others a new 2nd gen to look at differently.
Bear with me as I have hundreds of pictures and will be trying my best to upload them and keep you guys updated to date!
2000 Nissan Altima GXE (
Amanda
)
Green Emerald Metallic/ True Green Metallic
Got her 12/02/09
Mileage was around 81k
Current Mileage is just over 108k (my daily driver)
How she sat bone stock back in 2009
How she sat on September 2014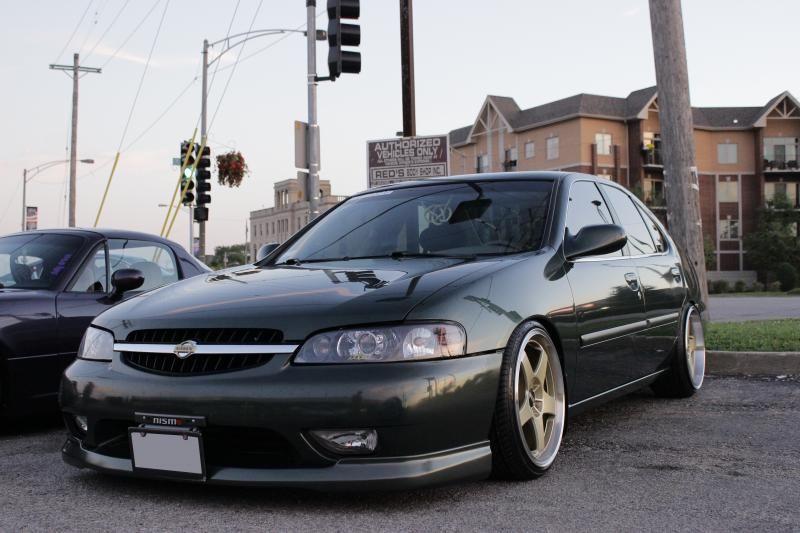 How she sits as of September 2015
Modification List (As of 09/2015)
​
Exterior:
- De-Badge Rear Altima + GXE Emblems
- Carbon Fiber Hood
- AeroCatch Plus Flush Locking Hood Latch and Pin Kit
- Painted Black Front Grille + G̶o̶l̶d̶ ̶P̶a̶i̶n̶t̶e̶d̶ ̶F̶r̶o̶n̶t̶ ̶O̶E̶M̶ ̶E̶m̶b̶l̶e̶m
- S̶i̶c̶k̶-̶S̶p̶e̶e̶d̶ ̶D̶u̶a̶l̶ ̶G̶o̶l̶d̶ ̶C̶h̶r̶o̶m̶e̶ ̶S̶u̶p̶e̶r̶-̶T̶o̶n̶e̶ ̶H̶o̶r̶n̶s̶ ̶w̶/̶ ̶R̶e̶l̶a̶y̶ ̶H̶a̶r̶n̶e̶s̶s̶ ̶+̶ ̶c̶u̶s̶t̶o̶m̶ ̶e̶x̶t̶e̶n̶d̶e̶d̶ ̶m̶o̶u̶n̶t̶i̶n̶g̶ ̶b̶r̶a̶c̶k̶e̶t̶s
- DEPO Blacked Out Headlamps Retrofitted w/Morimoto Mini H1 Projectors
- H1 Morimoto Elite HID System 5Five DSP XB35 5000k Moto-Control Bi-xenon 9007
- OEM Replacement Fog Lights w/ OEM Headlight Stalk w/ Fog-light Switch + Relay
- 3000k HID Fog Light Bulbs
- C̶u̶s̶t̶o̶m̶ ̶W̶i̶r̶e̶d̶ ̶F̶r̶o̶n̶t̶ ̶P̶a̶r̶k̶i̶n̶g̶/̶S̶i̶g̶n̶a̶l̶ ̶L̶i̶g̶h̶t̶s̶ ̶(̶S̶i̶g̶n̶a̶l̶s̶ ̶n̶o̶w̶ ̶d̶o̶u̶b̶l̶e̶s̶ ̶a̶s̶ ̶p̶a̶r̶k̶i̶n̶g̶ ̶+̶ ̶s̶i̶g̶n̶a̶l̶)
- Amber SMD LED Side Marker Lights
- White Cree 7W LED Reverse Lights
- V-LED 5k White LED Rear License Plate Lights
- Light Smoked Tint on Reverse Light Part of Taillights
- Custom Mounted 1998-2000 Honda Accord Coupe Oem Optional Front Lip Painted To Match
- N̶I̶S̶M̶O̶ ̶C̶a̶r̶b̶o̶n̶ ̶F̶i̶b̶e̶r̶ ̶L̶o̶o̶k̶ ̶F̶r̶o̶n̶t̶ ̶L̶i̶c̶e̶n̶s̶e̶ ̶P̶l̶a̶t̶e̶ ̶B̶r̶a̶c̶k̶e̶t (stolen)
- C̶a̶r̶b̶o̶n̶ ̶F̶i̶b̶e̶r̶ ̶F̶r̶o̶n̶t̶ ̶L̶i̶c̶e̶n̶s̶e̶ ̶P̶l̶a̶t̶e̶ ̶F̶r̶a̶m̶e (stolen)
- Metallic NISMO Rear License Plate Frame
- Purple Washer License Plate Bolts
- Texas Front and Rear Plates (show set)
Interior:
- Llumar 20% Front and Rear Window Tints
- Weather Tech All Season Front and Rear Floor Mats
- Broadway Rearview Mirror
- Front and Rear Beige Window Curtains Custom Fit
- Gold Kintsuna Knot
- White Fusa Kiku Knot
- Custom Warm White LED Front and Rear Foot-Well Lights
- White SMD LED Glove-Box Light, Dome-Light, Map Lights, Vanity Mirror Lights
- White SMD LED Board Trunk Light w/ On-Off Switch
- Custom 1" MDF Wood Trunk Floor w/ Spare Tire Cutout
Audio:
- Kenwood KDC-MP342U Head-Unit
- Alpine Type R SPR-60 6.5" Coaxial Front Doors and Rear Deck Speakers
- Power Bass S-652 6.5" Coaxial Rear Door Panel Speakers
- (2) PAC SN-1 RCA Ground Loop Isolators
- Hitron HA-1000.1 Mono-Block Amplifier
- 4 Gauge Amplifier Wiring
- 6 Gauge Stinger Amplifier Wiring
- (2) Pioneer Premier TS-W126C 12" Subwoofers
- Dual 12" Enclosed Subwoofer Box
- Jensen Power 760.4 4 Channel Amplifier
- Cadence 12 Gauge Speaker Wiring
- Custom Amp Rack
Suspension:
- SE Front Upper Strut Tower Bar
- Custom Rear Mid-Brace Bar
- Suspension Technique 22m Rear Sway Bar
- Racingline V2 Rear Endlinks
- Yellow Speed Racing Dynamic Pro Sport Series Coilovers
Brakes:
- SE Rear Disc Conversion
- Front and Rear Stop-Tech Stainless Steel Brake Lines
- Rear Hawk HPS Brake Pads
Wheels/Tires:
SOLD Track Set SOLD
- Nismo Ray Gram Lights 57C
17x7.5 +47 offset
235/40/17 Toyo Proxes R888
SOLD Show Set SOLD
- Sportmaxx 962 Gold w/ Polished Lip
Front: 18x8.5 +35 offset
Rear: 18x9.5 +35 offset
Replaced Center Cap Bolts w/ Locking Nuts
Metallic Purple Dice Air Valve Caps
Gunmetal Volk Racing Style Extended Lug Nuts w/ Purple End Caps
215/35/18 Delinte Thunder D7 Tires
5mm Spacers In Rear
25mm Spacers In Front
Non Show Daily Set
- 2004 – 2006 Nissan Sentra SER Spec V wheels
Complete Sand Down and Respray Metallic Silver
225/45/17 Bridgestone Potenza RE040 Tires
Chrome Air Valve Caps
P̶u̶r̶p̶l̶e̶ ̶D̶N̶A̶ ̶M̶o̶t̶o̶r̶i̶n̶g̶ ̶L̶o̶c̶k̶i̶n̶g̶ ̶L̶u̶g̶ ̶N̶u̶t̶s
4 Sets of OEM McGuard Locking Lug Nuts
1̶5̶m̶m̶ ̶S̶p̶a̶c̶e̶r̶s̶ ̶I̶n̶ ̶R̶e̶a̶r
2̶5̶m̶m̶ ̶S̶p̶a̶c̶e̶r̶s̶ ̶I̶n̶ ̶F̶r̶o̶n̶t
Winter Set
- OEM Steelies w/ Gunmetal Painted Hubcaps
Engine:
- Unorthodox Racing Pulley
- Full A/C Delete
- Power Steering Reservoir + Hoses Delete
- Cruise Control Delete
- Fuse Box Tuck
- Throttle Cable Tuck/Reroute
- Dual Fans Wired
- Full Cadence 0 Gauge Grounding Kit
- Full Cadence 0 Gauge Big Three Upgrade
- Ghetto Short Ram Intake Setup
- Interstate Battery
- Gold Positive/ Negative Battery Terminals