Hey guys,
I've finally started getting around to fixing some of those problems with my car. One of those problems was a intake manifold gasket leak that I've uncovered and wrote about in this thread,
http://www.nissanclub.com/forums/general-nissan-altima-discussion-1993-2001/231751-poor-mans-vacuum-leak-detector.html?highlight=poor+man+intake
I've gotten good, since I was about one year of age, in tearing down and breaking things apart - so I've heard from my parents. Most of those stuff never became whole again...but hey I learned. Hopefully I won't have any leftover parts when I'm done with the intake manifold gasket repair.
My adventure in adulthood is to find a way to do the near impossible - replace the intake manifold gasket without dropping the motor or removing the cylinder head. I've read other threads on how some had gone about it but nothing sounded straightforward to me. The approach I am taking offers a different alternative for undertaking this task. I haven't been taking any pictures but I will go on writing about this as I move along...specifically noting the challenges.
The first thing you should keep in mind is that your car will be "out of commission" for some time. So don't expect a quick turnaround unless you are a master mechanic, which I am not. My car has been in summer hybernation for about three weeks now since I can only do maintenance work only during the weekends and I am in no hurry.
The approach I am taking is simple in concept, first remove the intake manifold collector before moving on to the intake manifold. Why?? Because it stands in the way at getting clear access to the center of the intake manifold bolts. Besides you want to take advantage and replace the PCV, IACV, knock sensor, gaskets, and anything in that area that is in a bad state.
Here is what I had to do so far, in no particular order,
- Remove the air intake duct system.
- Remove the passenger side intake manifold support brace near the IACV.
- Remove the oil filter.
- Remove the starter.
- Disconnect the EGR passage tube.
- Remove the throttle body and associated hoses and linkages.
- Remove the driver side intake manifold support brace. It is located to the right of the throttle body. Very important!
- Remove the five nuts/bolts holding down the collector to the manifold.
- Disconnect some of the plugs from the underside wiring harness.
- Disconnect the throttle body and IACV coolant hoses.
Give the intake manifold collector a good whack with the handle of a hammer or something similar and she will drop a couple inches. Here is how it looks like from the engine,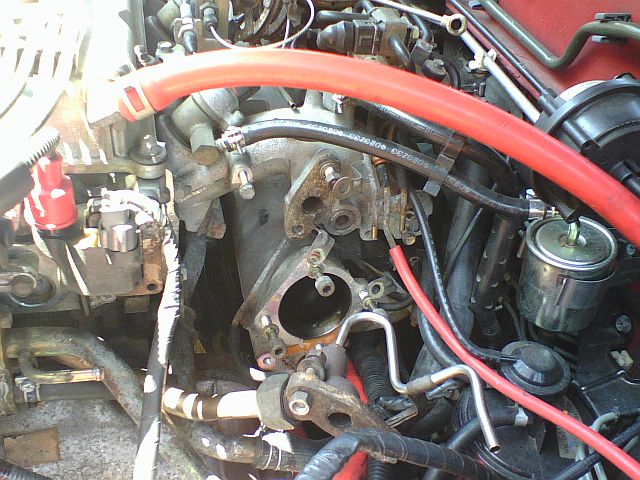 Location of the braces;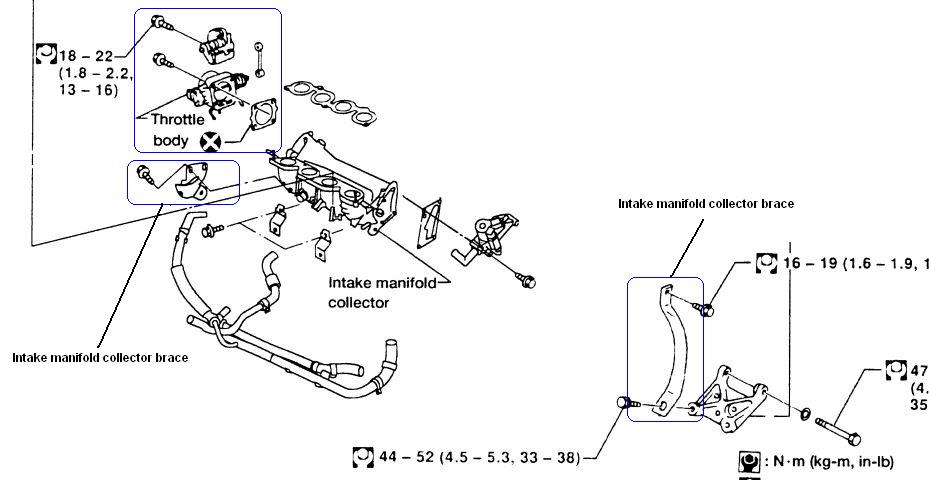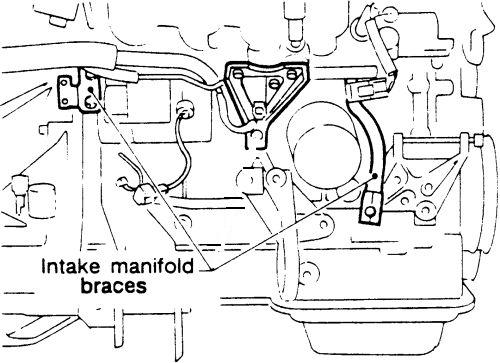 WOW!! All that just to remove the intake manifold collector. Had to stop at this point, but I'll see what is needed next to fish the collector from the throttle body side or work it loosely around while I work with the intake manifold.
It has repeatedly been said by others that you need a rachet with a swivel head. Heed that advice because without one you are just begging for additional headaches. Also get a 1/4" socket adapter and a few different size socket drive extensions as well. They will come in very handy.
Oh, and don't forget to get yourself an engine gasket kit ahead of time. Did I say that this was an intake manifold gasket replacement? :brow: