Discussion Starter
•
#1
•
4/25/12
Dyno
w 4" intake 301 whp closed cutout
2/23/12
Dyno trip 3
, HP 293 closed cutout, 298 open.
1/29/12 Haltech is in, Exhaust valve timing is working, 380cc injectors in, working on a street tune then going to dyno!
12/3/11
2ed Dyno
, UTEC street tune, cutout open, 280whp
8/23/11
First dyno
, stock ecu, some fuel added 250whp
UPDATE 7/28/11 it RUNS!!! Check
page 7
for info!!!!!!
I'm currently swapping in a 2009 Maxima VQ35 into my 2002 Maxima.
Ive been trying to research this out much as possible but there is not a whole lot of info with specifics to swapping this motor. Over the past 5-6 months ive been working on my 5.5 gen got a ton of mods for it (Tein SS, Cattman headers, Cattman 3 in catback, all ES bushings, etc).
With looking at the FSM, and FAST ive determined that is NOT accurate information to use for this swap. The pictures and even some of the information is just WRONG. Quick example- Spark plug socket list as a standard socket, in 02 and 09 FSM, which would lead you to think they are the same. But the 350Z HR FSM list the spark plug as a 14mm. and in fact the 2009 VQ35 FWD uses a 14 mm what i call "mini" plug, its very small compared to the older plugs, that means the coils are smaller diameter also and cannot be used on the older motors.
Anyway, so i just received my motor that will be used for the swap, its from a 2009 Maxima it has 31k on it and looks great! I had a 09 motor for the last 2 weeks but the junkyard sent me the wrong one it had acid damage and wast not the one i had ordered im much happier with this 31k motor thats in A+ condition than the other one that was 21k but not so good condition.
Why a 09 VQ35 in a 02?
Better intake manifold, and runners (much better intake manifold)
Bigger intake ports in the heads (52 mm vs 46mm)
Bigger Throttle Body (75 mm vs 70 mm)
Exhaust Valve Timing (helps top end power)
Higher Compression (10.6 vs 10.3)
Less "issues" (oil consumption, timing chain guide stuff)
other things that i have to confirm.
The Plan
Get the motor in my car run on 5.5 ecu till everything checks out and i can purchase a Haltech.
Haltech will be made pnp with a patch harness, (
see here
) this will offer full engine tuning, while retaining my stock 5.5 ecu to keep my stock functions.
Im going to use stock fwd cams, to keep this motor "stock" but if i was to go aftermarket on cams they HAVE to be HR CAMS. i though about 350Z HR cams to keep a "oem" cam in the motor.
Update 8/6/11 Not sure which EMS ima run at this point, to be later determined.
Update 1/19/12 350Z Haltech is in with dual widebands.
THE SWAP
Here it is, the "How to"
09 VQ35 into 02 Maxima:
Major parts that are needed off old motor. oil pan upper and lower, engine mounts brackets that mount to block, coolant pipes on front of motor and sides, crank pulley and all accessory's. That's the quick list more in depth as i go through it.
I will post all my findings in this thread along with what parts are needed to swap and how to do it.
Full Dyno tune will come but it will not be right after the swap is done!
I made this photobucket album for all the swap pics: www.photobucket.com/SurraTT09VQ
I will also have this on
Voltage Drop.net
Modifications needed to 09 motor to make it work in the 02 Maxima
Cut off 2 mounting ears so the 02 power steering pump will bolt up
Use upper and lower oil pan from w/e car you have (auto or manual)
Mail belt adjuster needs more space, so some of the 09 timing cover has to be cut down, also the bolt it self needs to be "pushed" down so it dont stick so high out
Alternator needs some washer to push it to the front of the motor, and the 09 bracket has to have a hole drilled in it for the top alt bolt.
Passenger side motor mount TOP black bracket needs holes enlarged and new bolts have to be used.
The rear 2 exhaust studs have to be switched (this allows 5.5 gen headers to work)
The 09 fuel rail is quick disconnect the 02 fuel line has to be cut and use fuel injection hose and a barb going from the 02 hose to the 09 rail.
The cam sensors need the signal inverted to work with the 02 ecu.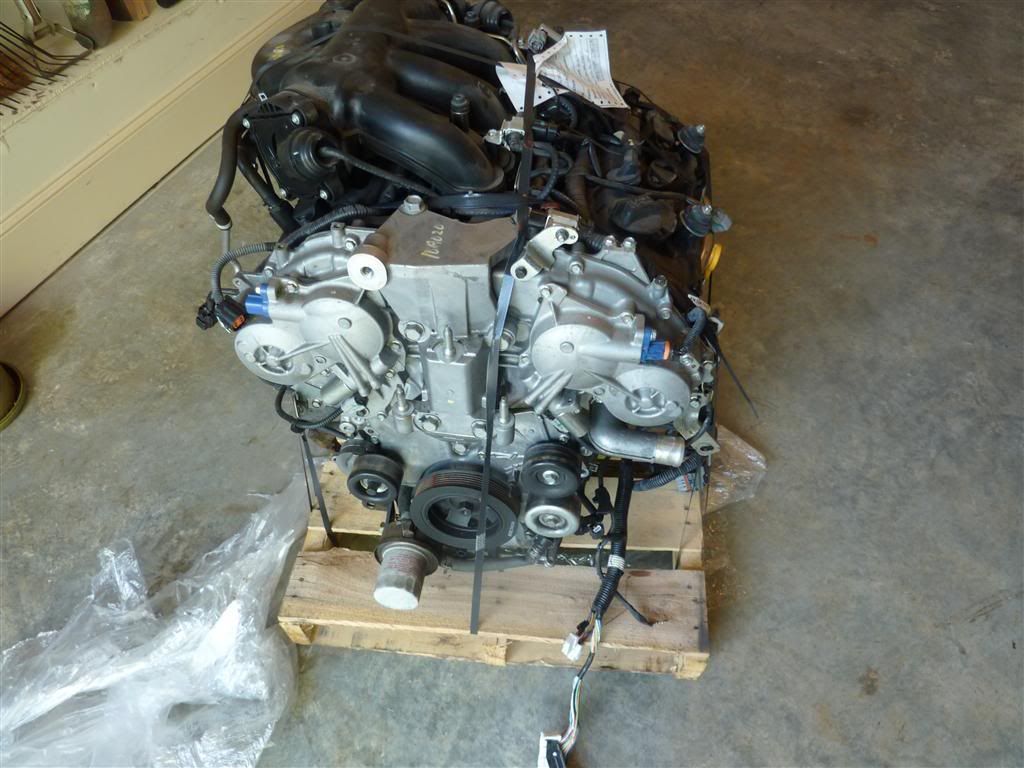 Needed from old motor:
Water pump access cover
Crank Pulley
Motor mount brackets Front, Rear, and passenger
Axle mount
Upper and lower oil pan
oil pickup tube
Oil dipstick
Power steering pump, with adjustment bracket
If keeping oil cooler you will need all of that setup except thermostat.
exhaust of some sort (oem or aftermarket)
Alternator
AC compressor and brackets
Main belt adjuster
Edit: Anyone wondering why under my name it says 5.7 Gen Maxima , well this is why. hahah.
5.7 gen the best "stock" Maxima ever